I found this picture online this morning and it inspired me to add a caption "No Excuses Try Archery".
So many times we get caught up in the excuses.
"I'm to tired".
"I don't have time".
"I don't have the money".
"I'm not good enough".
Just one look at this picture should inspire us all.  Many people who are physically worse off aren't making the excuses. They are shooting archery, they are hunting harder then a perfectly abled body man.
Examples:
Mike McCabe
Mike McCabe of Sportmen Of North America hasn't been able to walk again since his accident but he still bow hunts harder than any man I know. This is the buck he took this year on his farm in Ohio. No high fence by the way.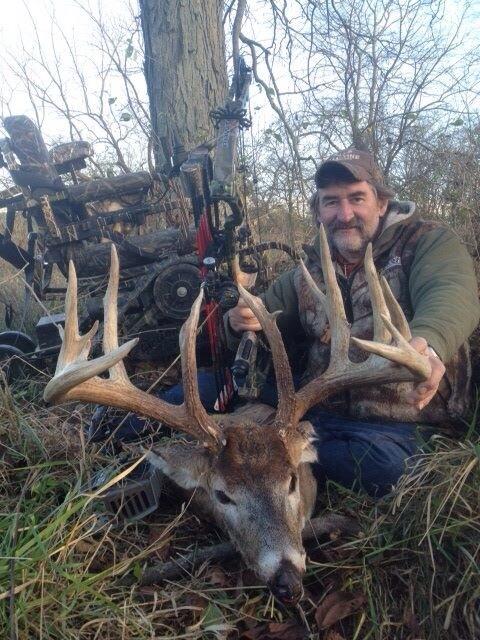 Tim Farmer
A life-long Kentuckian, Farmer has been an outdoor lover since childhood. He was fly fishing before the age of 8 and squirrel hunting at 10. However, in 1984, a motorcycle accident left the Carter County outdoorsman without the use of his right arm.
Thanks to a strong will and adaptability, Tim regained the capacity to continue doing the many things he loved. He learned to shoot a rifle cross-shouldered, tie fishing line with his mouth, and shoot a bow and arrow with his teeth (with bull's-eye accuracy). In 1995, this resiliency led him to Kentucky Afield. Each week, he finds himself in the woods and on the water from Pikeville to Paducah.
The disability, however, is hardly noticeable on screen.
"It's not really a distraction at all," Farmer says. "It's simply how I and many Kentuckians must live our life, I'm just lucky to be in a position to share the joys of the outdoors with viewers around the state at the same time. Many have called me to ask how they can overcome physical barriers themselves to get back to enjoying the outdoors. For most, it wan't as difficult as they thought."
Matt Stutzman
Matt Stutzman was born without any arms. This hasn't prevented him from doing routine things like driving a car, typing on his iPad or playing sports with his children. Nor has it stopped Stutzman from winning a Paralympic medal in an event in which it seem impossible to excel without arms.
"My goal was to inspire somebody, even if it was just one person, with my positive attitude," Stutzman said after winning silver. "Never say never. If I can do this, with no arms, anything is possible. […] I hope that America is proud of me."
So what's your excuse for not trying archery or for not hunting harder than the next guy. As you can tell from these stories there is No Excuses Try Archery!
I hope these people inspire you as much as they do me and make you push just a little harder and go just a little further in everything you do.